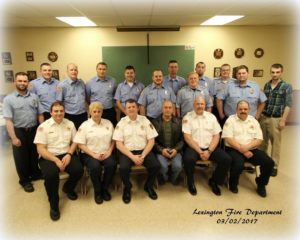 History of Lexington Township Fire Department
For many years Lexington Township existed with no in-house fire department, relying on other departments, primarily Marlboro Township, to supply whatever protection they could. Finally, in 1956, Marlboro Township served notice that as of June 1 of that year they could no longer provide such services to Lexington Township, leaving the Township in a bit of a bind.  The township Trustees responded by requesting the taxpayer to approve a two and one-half mill fire levy on the may 1956 primary ballot.  Fortunately local residents saw such a levy as an investment in their future safety and approve it, to create the Lexington Township volunteer Fire Department.  Years of growth lay ahead.
The year 1957 saw construction of the Township's fire station, still in use today, located at the corner of Gaskill Drive and Northside Street.  In its original form, the station house consisted of two truck bays and a combination "gathering room" and office.  In 1972 four large truck bays were added to the north side of the building, and in 1987, with the aid of a $125,000.00 Federal Grant, a wash bay and a training/meeting room were built.  How things have grown since way back in 1957!
The first Township Fire Chief was Lewis Grubb, who held the position until 1964 when Noah Collins stepped in.  In 1967 Lester Barber filled the position serving 21 years until Charles Devan took over the reins in 1988.  In 1992 William Milburn took the position of Chief until 1998 when Mark Taschwer took over.  Ed Johnson took the reins in 2002, retiring February 28, 2017.  Our current chief is now Eric Wagner.
There are currently 27 active firefighters who volunteer their services and lives to the residents of Lexington Township.  The first female firefighter joined the department in 1993, and another female took up the tradition in 1999.
Fire departments can trace a big part of their history through their vehicles and equipment.  Lexington Township is no different.  Our first engine was a reliable 1956 Dodge Pumper built by Sutphen and Associates, which actively fought fires until its 1992 retirement.  Other trucks used through the years include a 1957 Dodge Pumper, a 1966 International one-ton, four-wheel drive grass fire truck, a 1966 Chevy step van, and a 1977 Howe/Hendrickson Pumper.
Today's fleet of vehicles includes a 1995 Ford four-wheel drive grass truck, which carries 200 gallons of water complete with sprinklers, pump, and hand firefighting equipment, a 1999 Precision engine which carries 1,000 gallons of water and can pump 1,500 gallons per minute, a 2001 Precision heavy rescue, a 2002 J
ohn Deere Gator and trailer used for off road, 2004 New Lexington engine that carries 1,250 gallons of water, can pump 1,750 gallons per minute and has A/B foam, a 2005 New Lexington tanker vacuum that carries 3,500 gallons of water, a 2006 Ford truck that is Hazmat equipped, a 2006 boat and trailer used for water rescue, a 2010 light rescue truck used for medical and accidents and a 2012 F250 chief vehicle used on all calls and carries basic lift support and first response equipment.  Our 1977 Howe/Hendrickson was refurbished in 2000 with a stainless steel body.  This pumper carries 750 gallons of water and can pump 1,000 gallons per minute.
In 2000 was the opening of substation 2 located at 11700 Rockhill Avenue NE.  This station has been remodeled and is capable of holding two trucks.  New equipment includes a Cascade system used to replenish our Scott Air Packs and a complete second set of extrication equipment.
Our duties currently include firefighting, extrication, total medical response team from EMR to Paramedic, Hazmat, confined space, water and ice rescue and park trail bike control for medical.
To learn more about the Lexington Township Volunteer Fire Department, visit the fire station or schedule a group tour.  The fire department holds weekly meetings every Wednesday night at 7:00PM and the public is always welcome.